With Independence Day here, every Indian will will find a way to celebrate their country and its glorious history. While some people choose to wear miniature tiranga flags with a sense of national pride, others get their dose of patriotism by watching films based on the freedom struggle and some even make it the theme for their culinary exploration. TV couple Ishita Dutta and Vatsal Sheth did just that. They have been getting into the I-Day mood with delicious tricolour-themed mithai. "Ishita and I have a sweet tooth and we both love mithai. It's during this time that the shops make this delicious tricolour variety, so it gave us a reason to tuck into it," says Vatsal, adding, "This is the first time we are home on this day, so we'll have a flag-hoisting ceremony at our place with my niece."
Bollywood actress Shama Sikander has a similar plan. She says, "I am celebrating the day by bringing home some tiranga mithai — it has green, white and saffron hues as I wanted to do something unique while I am home. I wish everyone a very happy Independence Day." If this has made you want to indulge in some themed fare, here are a few sweet and savoury recipes for you to try…
Tricolour mousse cupcake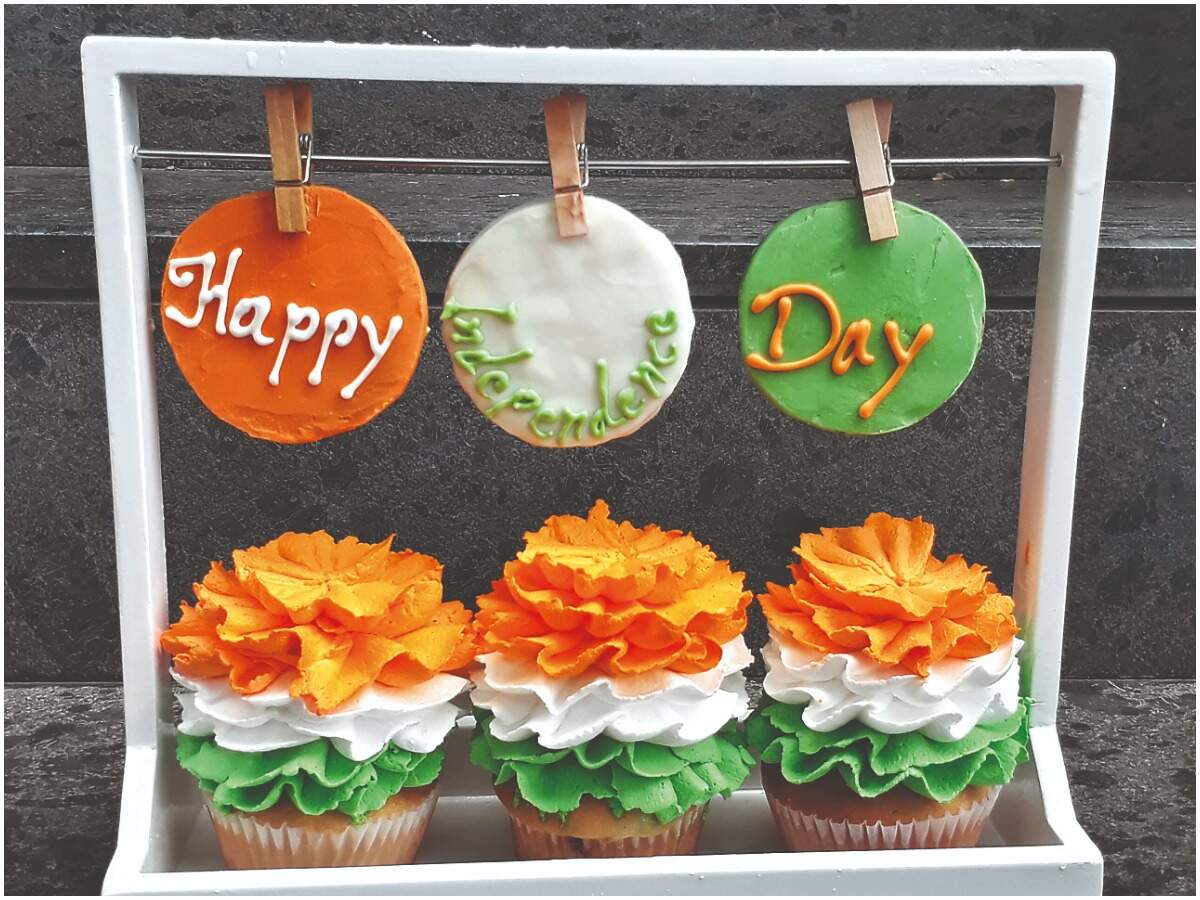 Swap the usual chocolate or red velvet cupcakes for this one by chef Altamsh Patel. Here's his recipe for it…
IngredientsIngredients
(For the muffin)
Butter – 100g
Caster sugar – 80g
Flour – 100g
Baking powder – 2g
Condensed milk – 50ml
Milk – 50ml
Baking soda – 2g
Vanilla essence – 3ml
(For the topping)
Cream cheese – 150g
Vanilla essence – 3ml
Whipped cream – 50g
Kiwi purée – 30g
Carrot and saffron puree – 30g
Roasted nuts – 2tbsp
Condensed milk – 20ml
Caster sugar – 70g
Method
Mix the butter and sugar till it is completely dissolved. Mix milk and condensed milk to the butter mixture. Sieve flour, add flours, baking powder, baking soda and vanilla essence. Mix well and pour into muffin moulds brushed with butter and a muffin underliner paper. Bake for 18-20 minutes at 180 degrees centigrade. Remove from the oven and allow
to cool.
For the topping, mix cream cheese, whipped cream, vanilla essence, caster sugar, nuts together and blend well. Separate into three batches. Into one batch add kiwi purée, into another add saffron-carrot purée and leave one as it is, to get three different coloured batches. Once all three topping flavours are ready, allow to chill. Pour the filling in a piping bag and pipe it onto the muffin in three layers to resemble a tricolour. Serve with crunchy cookies coated with the same filling accompanied on the side.
Tricolour Dahi Bhalle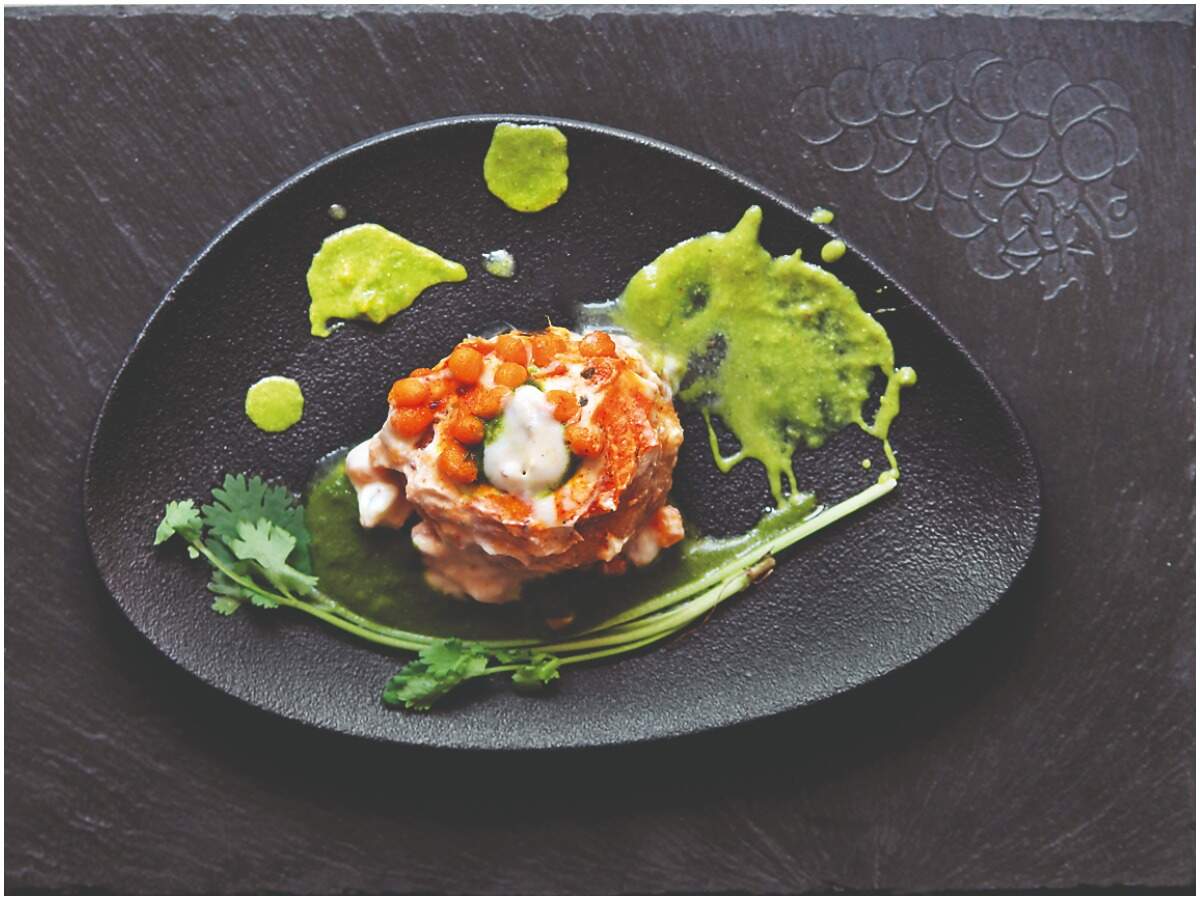 Make delicious tricolour dahi bhalle, suggests culinary expert Reetu Uday Kugaji. She shares her recipe to try…
Ingredients:
Split black gram – 1½ cups
Bengal gram flour – 3½ tbsp
Asafoetida – a pinch
Raisins – 32
Ginger, chopped – 02 tsp
Green chillies, chopped – 3
Salt – to taste
Rock salt – to taste
Sugar- 1½ tbsp
Refined oil – to deep fry
Date and tamarind chutney – ¼ cup or as required
Chaat masala – ½ tsp
Cumin seeds, lightly roasted and powdered – ½ tsp
Red chilli powder – ½ tsp
For the saffron colour
Masala boondi – 2 tbsp
For the white colour
Yogurt, whisked – 8 cups
For the green colour
Mint chutney – ¼ cup
For the garnish
Coriander leaves, chopped – 1 tbsp
Method
Method
Wash and soak the dal in seven cups of water overnight. Drain off the excess of water in the morning. Grind it into a smooth paste, add salt, asafoetida, Bengal gram flour, raisins, finely chopped green chillies and ginger to the batter. Whisk for five minutes. Heat oil in a non-stick kadhai. Add the batter and deep fry till light golden brown. Place it on the kitchen paper to remove excess oil. Soak them in lukewarm water for 1- 2 minutes and squeeze lightly to remove the water. Add salt, rock salt and sugar to the yogurt and whisk to mix. Place the bhallas on a serving plate, and pour the whisked yogurt over it. Drizzle mint, date tamarind chutney and the crunchy masala boondi on top. Sprinkle cumin powder, chaat masala and red chilli powder. Serve chilled garnished with chopped coriander leaves. Add pomegranate pearls on top or nylon sev for flavour.
Tricolour idlis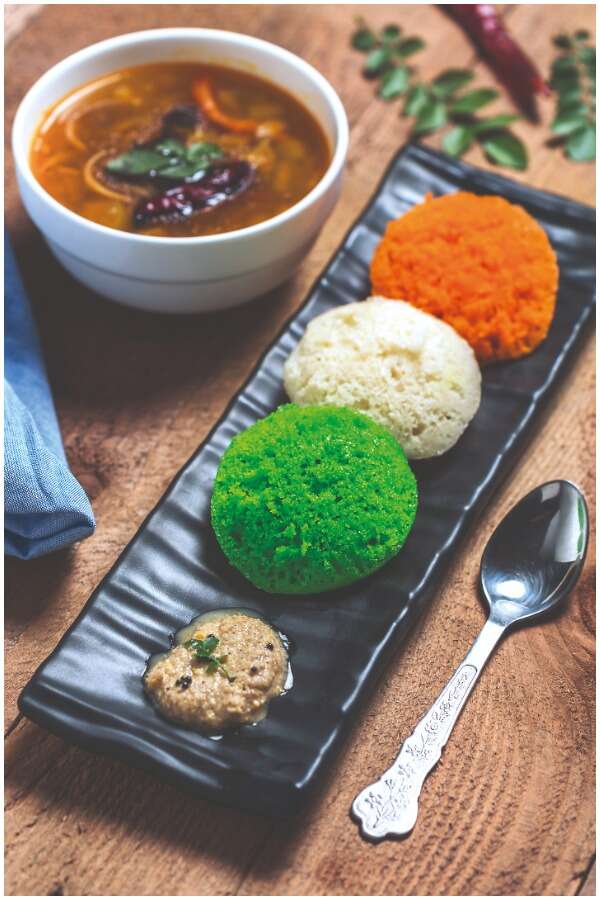 Give a fun twist to the usual way of having idlis with these tricolour-themed ones, says foodie Sumitha Krishnan. Here's how
she makes it…
IngredientsIngredients
Fresh idli batter – as required
For the orange – carrot, chopped (half bowl)
For the green idlis – ¾ cup pudina leaves
Green chilli – 1
Zeera – ½ tsp
Ginger, grated – for taste
Method
Method
Make the batter for the three idlis separately. Grid carrot with a little salt and keep aside. Fry mint leaves with the green chilli and grind to a paste. You may also use spinach purée for the green idli mix. Let the white batter have the usual idli mix. Allow it to stay in the bowls for a while. To make the idlis, grease each of the moulds and fill the batter in each. Let them cook in a steamer for 10 minutes or until done. Cool and serve with coconut chutney.